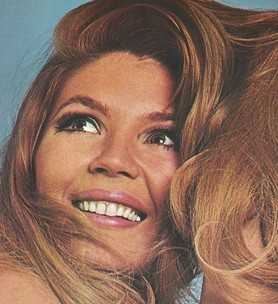 Pop darling Shaoncé has revealed details about her new album scheduled for release in early 2012. After the tremendous success of her previous album, Shock, people are curious to see if she can live up to the hype — but judging by yesterday's press conference in Paris there is no need for concern. Sporting an outfit that would make Lady Gaga proud, the young singer won the world press over with her sharp wit and acute observations. Her warm, conversational style created a unique and friendly atmosphere, and even old codgers like myself had to let down our professional guard a bit to enjoy the exhilarating intelligence and humanity of the encounter.
Produced by the people behind the hit tv series Glee soundtrack, the title of her new album is The Use of Pleasure. It's primarily based on original texts by the French philosopher Michel Foucault, translated into English by acclaimed American songwriter Diane Warren, occasionally assisted by ms. Shaoncé herself.
On her new album, Shaoncé is particularly preoccupied with Foucault's disassociation from the structuralist movement and how it has affected what she perceives as impotent principles of application in computational semiotics. This is underscored by the extensive use of FM synthesis and autotuning. "I would never use autotune under normal circumstances," she says. "But for this album we really had no choice — there is no better way to represent the concepts of artificial intelligence, computer-human interaction — all that stuff that we're dealing with on the album. So you may say that autotune is the recurring theme here, a kind of non-musical leitmotif."
I asked her if this meta-perspective might not get lost on her audience in a musical landscape where autotune is, per se, the default. "But, you see, what you're saying, that is the beauty of it. No one knows for certain whether it's one thing or the other. That's my point — our ears are so accustomed to autotune that we don't question it anymore. It's the same with semiotics. We are so entrenched in one way of thinking — the wrong way, I'd say — that we can't really see what's right anymore."
The Use of Pleasure will be released on EMI in 2012.